Tag Archives: Mojave Desert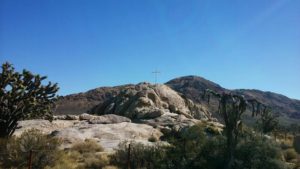 A few weeks ago while rummaging through the Mojave, dumb luck delivered me to an odd spot. Somewhere amid the desert's Joshua trees rather than near habitation I saw a simple cross stark against the sky upon a granite outcropping. This was a World War I monument. Continue reading Shades from the Eleventh Hour →
Ladies and gentlemen, the wages of sin are fairer than honest compensation. Years ago, such bombast might've been an exaggeration. Today, it's not even laughable. In fact, such recognition deserves rueful acceptance.
Any following these posts know the writer has decamped across America; from Northeastern suburban splendor to the Mojave Desert. As chronicled, abject neglect beyond my control has transformed me into an involuntary economic refugee of sorts.
Imitating conquistador Hernando Cortez and his particular New World conquest, I've burned my boat. Truly, stranding myself was easier than Cortez' and his band's self-inflicted marooning.